Embark on this melodic, progressive journey with New Ordinance, a production and performance act, featuring multi-talented instrumentalist, vocalist and producer, Gray Devio. Every week, the best new music in Progressive House and Progressive Trance is curated and presented by New Ordinance. This is Regulation.
Born in New York City, Gray Devio, songwriter, producer, vocalist, violinist, violist, pianist and guitarist began his studies at the age of 3, and began writing, arranging and digitally sequencing original material at age 7. By the time he was 11, Gray and his violin had performed in many of the major concert halls in New York City, including Carnegie Hall, Alice Tully Hall and Merkin Concert Hall. He accepted an invitation to perform in Tchaikovsky Hall and other leading concert halls in Moscow, and has made many appearances on television and radio, stateside and overseas.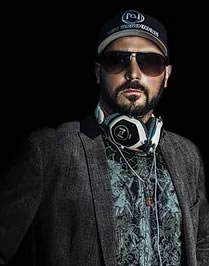 Pre-College, Gray attended the Juilliard School of Music in New York City for 4 years, studying performance, composition, conducting, theory and solfége. Having been concertmaster of the Symphony and principal violist of both the Symphony and Orchestra, Gray graduated from Juilliard in the Spring of 1999. To continue his education after Juilliard, Gray attended Brown University for studies in music engineering, computer science, business and marketing. After his inspiring years at Brown, he returned to New York to continue performing and start his own talent and production companies.
Since then Gray has shared the stage with countless celebrity acts all over the world, such as Pitbull, Alicia Keys, LMFAO, Justin Bieber, Rod Stewart, Wyclef, Spice Girls and Deborah Cox to name a few, as well as having performed at and produced events for countless high-end private and corporate clients such as The Rolling Stones, Kevin Hart, Tony Parker, Tyra Banks, NBC, American Express, Lamborghini and Audi. Between his performances, event production and other entrepreneurial endeavors around the world, Gray devotes his time to 'Regulation' as well as writing and producing original music and videos for the continued development of "New Ordinance."